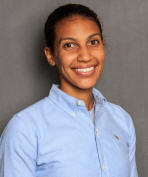 Lauj begins her fifth year as Athletic Trainer at UWA. She graduated with a B.S. in Pre-Physical Therapy from Howard University in 2008. A native of Los Angeles, CA, Lauj returned to complete a Master's of Science in Athletic Training from California Baptist University graduating in May 2012. As a graduate student, she assisted comprehensively with men's basketball, track and field, and men and women's tennis for the University of California, Riverside.
Upon graduation, Lauj obtained a position at Roosevelt University in Chicago, IL, serving as an Assistant Athletic Trainer for two years. Her primary sport responsibilities were: men and women's soccer, women's basketball, softball, and women's tennis. In July 2014, she accepted an offer from the University of Pittsburgh Medical Center (UPMC) Sports Medicine Department. During this time, she was contracted as a Head Athletic Trainer to a local high school.
Lauj currently lives in Tuscaloosa, AL with her husband and son. She completed her Doctorate of Athletic Training from Indiana State University in May 2018.