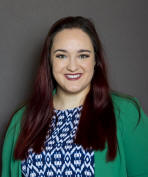 Cassidy Evans Windsor is in her second year as an instructor and athletic trainer at the University of West Alabama. Cassidy is primarily the athletic trainer for UWA's women's soccer team. Her teaching responsibilities include both graduate and undergraduate courses in assessment, research, rehabilitation, and therapeutic interventions.
Cassidy grew up in Palmer, Alaska. She moved to Missouri in 2014 to pursue her bachelor's degree. She graduated with her bachelor of science in athletic training from Central Methodist University in May of 2018. After graduation, she moved to Mesa, Arizona to pursue her post-professional masters of athletic training through A.T. Still University, which she completed in June of 2020. Her research efforts are focused on health-related quality of life in athletes. While completing her master's she was the head athletic trainer at Chandler Preparatory Academy, a public charter high school in Chandler, Arizona. Cassidy has experience working with a variety of sports and athletes of all age and skill levels. She is currently pursuing her doctorate in athletic training through A.T. Still University, where she is on track to graduate in June of 2022.
Cassidy is a member of the National Athletic Trainers' Association, Southeast Athletic Trainers' Association and Alabama Athletic Trainers' Association (ALATA). She also serves on the Early Career Professional Committee for ALATA.
Cassidy is excited to bring her unique skillset and background to the athletic training program at University of West Alabama to provide the best quality care and education to her patients and students. Cassidy currently resides in Livingston with her husband, Alan and dog, Rownan.